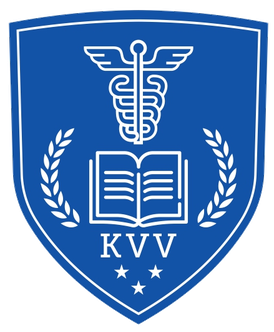 Faculty Of Pharmacy
The latest inclusion in the University is Krishna Institute of Pharmacy. It was stated in year 2017 with the intake of 60 students. Within 2 years the intake capacity is increased to 100 per year. Advanced laboratories, classrooms and enthusiastic faculty are the main pillars of the institute
Contact:
(02164) 241555 / 241556 / 241557 / 241558 Extension: 478
deankip@kimskarad.in
About - Faculty Of Pharmacy
Pharmacy Profession is one of the integral components of Healthcare Profession along with Medical, Dental, Physiotherapy and Nursing Profession. No healthcare is complete without treatment with drugs where pharmacist plays an important role.
Origin of the profession: The History of Pharmacy education in India dates back to 1932, when a two year Degree Course in Pharmaceutical Chemistry for B.Sc., marked the beginning of pharmacy education at Banaras Hindu University by Prof. Mahadev Lal Schroff, who is also known as Father of Pharmacy Education in India. The first B. Pharmacy Course approved by Pharmacy Council of India at Birla College, Pilani in 1954.
From the days of Sushruta to present time in 2020, pharmacy profession has come a long way & grown by leaps and bounds. For the growth of any country, "health" of the people in the country is very important & people should have access to quality medicines at affordable prices.
Drugs & Cosmetics Act of 1940 is considered as a landmark in the annals of pharmacy profession since it ensures that quality medicines are available to people. Today, the pharmacy profession is one of the most important & thriving professions in this country which is growing at 12% per annum.
India is the largest manufacturers & suppliers of generic medicines & is ranked number one in this category. India caters to around 40% requirement of medicines across the world. It is ranked 14th in terms of value and 3rd in terms of volume in the world.
India boasts of excellent state of the art manufacturing facilities in the pharmaceutical industries. Around 40% of the pharmaceutical industries are approved by WHO, USFDA, TGA Australia, MHR UK & ANVISA Brazil. Indian Pharmaceutical Sector exports drugs throughout the world and caters to most of population of the world.
Indian Pharmaceutical industry is highly regulated industry which is continuously evolving & changing. API's, intermediates, conventional dosage forms like tablets, capsules, ophthalmic, aerosols, liquid orals are manufactured in pharmaceutical industries pan India which fall in categories like multinational companies, large scale manufacturing units, small scale manufacturing units.
Apart from this, India is a manufacturing hub for medical devices, novel drug delivery systems like liposomes, niosomes, solid lipid nanoparticles, transmucosal drug delivery systems, implants etc. Any pharmaceutical industry in India is at par with the best pharmaceutical industries in the world.
We at Faculty of Pharmacy, consider our bound duty & responsibility to produce pharmacy graduates who will be tailor-made to meet stringent requirements of pharmaceutical industry, competent health care professionals.
We consider ourselves a privileged lot to have been chosen or given the responsibility to mould quality healthcare professionals the torch bearers of the pharmacy profession into the next country.
LONG LIVE THE PHARMACY PROFESSION & THE PHARMACIST!
Key Person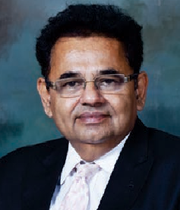 Prof. Dr. Rajendra C. Doijad
Dean
Faculty Of Pharmacy

Tel (Office) – (02164) 241555 / 241556 / 241557 / 241558 Extension: 478

deankip@kimskarad.in
Dr. Rajendra C. Doijad is presently working as Dean Faculty of pharmacy, KIMSDU'S Krishna Institute of pharmacy, Karad. He worked as a Principal & Professor at Shree Santkrupa College of Pharmacy, Ghogaon-Karad for 6.5 Years. Under his able and dynamic leadership SSCOP has given Education Excellence award at New Delhi by renowned columnist Ms.Shobha De, as most promising pharmacy college in satara district. He has a total of 34 years of professional experience consisting of 6 years of Industrial experience & 28 years of Academic / Research experience. After completing his B. Pharm in 1984 from KLE's college of Pharmacy in Belgaum, he worked in various industries at Bangalore & Hubli. He is having approval from Dugs Control Department, State of Karnataka as a qualified person to supervise manufacturing of Schedule C & C1 drugs & other than Schedule C & C1 i.e. for Parenterals tablets & liquid orals. He joined KLE's college of Pharmacy, Belgaum as a lecturer in 1990 & worked till 2008 in various capacities up to Professor & HOD of Pharmaceutics department. He has excellent research credentials. He has presented scientific research papers at various international conferences. In June 2003 he presented paper at CRS international Convention in Glasgow, Scotland (UK). In September 2003 at FIP at Sydney (Australia), September 2004 at Hawaii island (USA) & November 2011 at FIP, PSWC New Orleans in USA. He has also visited no of countries like Japan, Thailand; Singapore & Malaysia. He has received financial assistance or Grant of Rs. 10 Lakhs from AICTE He has guided 40 M.Pharm students, 4 Ph.D. research scholars & is presently guiding 6 Ph.D. Research scholars. He has published more than 70 research papers in various National & International Journals & presented more than 50 Research Papers at National & International Conferences. He was convenor as well as chief coordinator for number of quality improvement programmes at KLE's College of pharmacy; Belgum. He has received Best presentation award at Faculty Development Program in Mysore He is reviewer for 4 Journals of repute out of which one is International. After KLE's college of Pharmacy in 2008 he worked as a visiting Professor at 7th Oct. University Libya, North Africa for 1 year. He is approved Ph.D. guide for Shivaji University Kolhapur, KLE's University, JNTU Hyderabad, NIMS Rajasthan, JJT University Rajasthan & Rajiv Gandhi University of Health Sciences Bangalore. He is life member of various professional bodies like APTI, IPA, CRS, Indian Cosmetic Association, Indian Polymer Science Society etc. Last year one of his research papers was adjusted as the best research paper by JGPT journal. He is recipient of 'International Achievers Award for Educational Excellence' in Sept. 2015 at Bangkok Thailand.
Events, Webinar, Workshop, Conference
Conference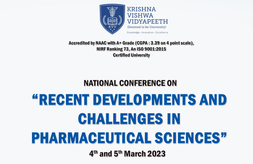 March
4
Recent Developments and Challenges in Pharmaceutical Sciences
S1 Hall - Krishna Institute of Medical Sciences, Karad
View Details